Broward PSA

All Broward County Public Schools will remain CLOSED Tuesday, September 7, 2004 as restoration efforts from Hurricane Frances continue. Students, teachers and other school-based instructional staff should NOT report to the schools. Principals and Assistant Principals should report to their respective schools.

District offices and facilities WILL reopen tomorrow. All full-time District employees, including administrative and supervisory, clerical, maintenance and facility service employees should report to their normal work locations. All food service employees should report to their respective work locations as well.

The decision was made to keep the schools and offices closed for another day because of the power outages that persist at several dozen District schools, along with potential hazards to children presented by downed power lines, busy intersections where traffic signals are not operating due to power outages and storm debris that may prompt children to walk in the street to school and bus stops. There is also a concern with the ongoing restoration efforts involving the use of chainsaws and heavy vehicles to cut up and haul away downed trees and branches, as well as the major operation by Florida Power & Light Company to restore electricity to the area.

An additional issue involves scattered sewage and water disruptions throughout the county as the result of power outages. Pumping stations and sewage treatment facilities have been impacted, causing some sewage backups, sporadic water service and boil water orders.

Students, parents and District employees should monitor the District's Web site at browardschools.com, call the District's Rumor Control Hotline at 754-321-0321 or monitor local media for updated information regarding the status of the schools.

More Information on District's Status

/PSA


---
- Regular Scotto-Entry -
Ah, how nice to sleep in my own bed. It's been a long few days. Thank goodness I didn't go to a shelter... I would have gone totally insane. I'm very thankful. The funny thing about hurricane Frances was how many "experts" came out of the woodwork.. like they all have a direct line to Thor/Zeus/Mamma Nature. I wonder how the homeless folks did, under bridges or other semi-public cover? Bro did ok, as did the Mother.
Ivan 5-day Tracking
- Ack. D&J may have a houseguest again.
I'm not officially worried yet.
Yum... fresh oranges. Nice breakfast, and for some reason, I rarely get 'em. Tasty, and good to eat in the middle of the night as a snacky-snack.
Off to work after a quick phone call...Let's see how things go. Power was off at the company building earlier, so I may go to an off-site location (probably Big Kahuna's house) to continue. I *think* RI is off this week.
I love the
fourth piccie of Newt
. He's got a little Santa beard! (he caught a light-monster in his jaws.)
---
Freeware replacements for commonly warez'ed programs
I use
openoffice
and it's excellent. I'm going to make a point of sniffing around
phpEDIT
and
SharpDevelop
If you're not in the mood for useful utilities, there's these
nifty games
. (many are decent clones of $$ games) I've dug
FreeCiv
for a while now... good to fall back on when between other games. There's a
palm version
in the works
too! (hasn't been updated since
June '04
. ouch!)
As always,
check for spyware
!
America's Army
looks really nifty... I'm pulling that down tonight.
---
A few storm-related doodles
Caught in the middle of Frances.
My noggin was throbbing for about two of the days... I suspect it was the pressure change, and my general cabin fever-ness.
My barely legible script reads "hurricane hurts my brain"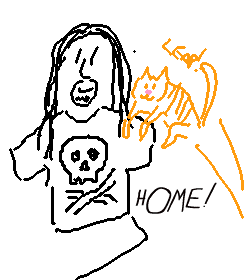 Newt happy to be back at HQ!
I don't know where my arms are.
---
Hangaroo
Hangman with a mouthy kangaroo - (thanks
enigma
!)
---
10 handy CSS tricks
---
Archives -
1 year ago
- Harvest moon, auto-cashiers, acim two-level split, lynching, cluster move, gender genie, newt-bounce,
2 years ago
- Sleestaks and Oatmeal, Sculpey and Fimo, Bewitched, cave photo, bad prefixes, dog snoods
3 years ago
- lj drama regarding cheaters,lovely long chat where blackie burped, the scents of rose, lavender, gardenia, violette, and muguet (burts bees), Skeletor, Back in 1997, there was an exorcism performed on Mother Teresa, saints.
4 years ago
- Suzy goes to jail, actors, cravings, dwbh
Later Journal-gator!