Cocktail party was very slow.. attendance was minimal.

ADP got so stressed that she took a tranq beforehand... I imagine that she regrets that now.

I got a lot of nice comments about the presentation, and not a bad nibble off of the veggie tray.

Glad that today is Friday, even if I have to work the weekend, I can do it in my PJs from the comfort of home. I might not have to.. EN's sounding sort of broke.. maybe he'll go for a full weekend on call.


---
---
My LJ ID-Badge
, Via this
cool badge generator
. (or, what Scotto does between demos with law enforcement)
---
You might want to pull out your credit statements from the last month if it's not your habit to look them over once or twice. A "company" called Pluto Data Ltd. has apparently placed false charges
on hundreds of credit cards
around the world in amounts from one cent to $40. None of the people who've been charged ever bought anything from the company, it goes without saying, and the feds are trying to figure it all out.
Phone calls to an 800 number listed next to the charges are being answered by a company that says it closed Pluto's account several weeks ago. And it's looking more and more like another scam from our friends in Nicosia, Cyprus, who already used the scam under the name PharmacyCard.com.
via
---
Moment of Lyric:
I'm just a soul who's intentions are good
Oh Lord, please don't let me be misunderstood
---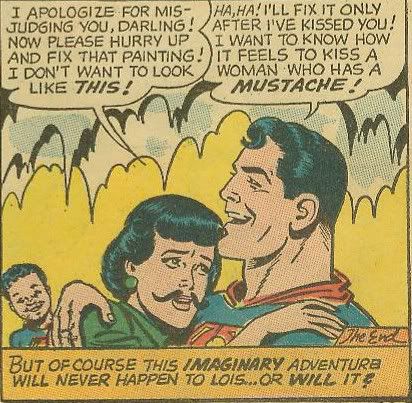 Superman... you freaky alien. (From Lois Lane #39)
---
1 year ago
- walk piccies (sudsy fount), CS bombed as a tech, zombies, condos, legal poop, broken website
2 years ago
- Newt in a tub, wandering walk photos
3 years ago
- I'm Newt's bfast table, at the doc, parrots & cuban food, Asimov died of AIDS, Dave's birthday on the 14th, spiders, squids, Stichomancy, and a little zen, death to smoochy, gypsies
4 years ago
- good day, accomplished much, new phone, akimbo, Super Newt, fun words, random plots